Synfire Sparks
The intelligent harmony navigator and arranger for songwriters.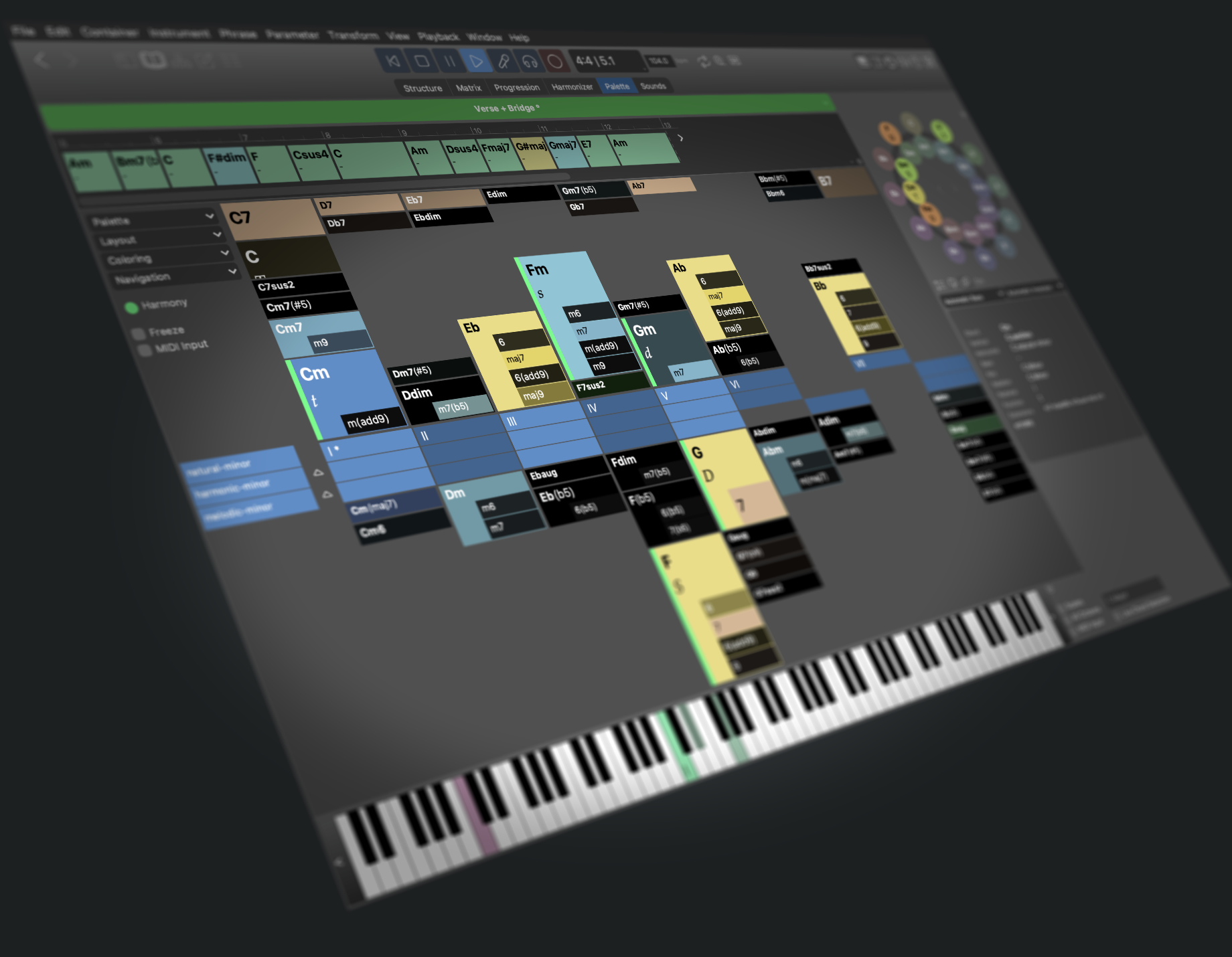 Navigate keys, scales and chords. Build progressions with drag and drop. Build your own palettes. Listen to sketches playing in real-time.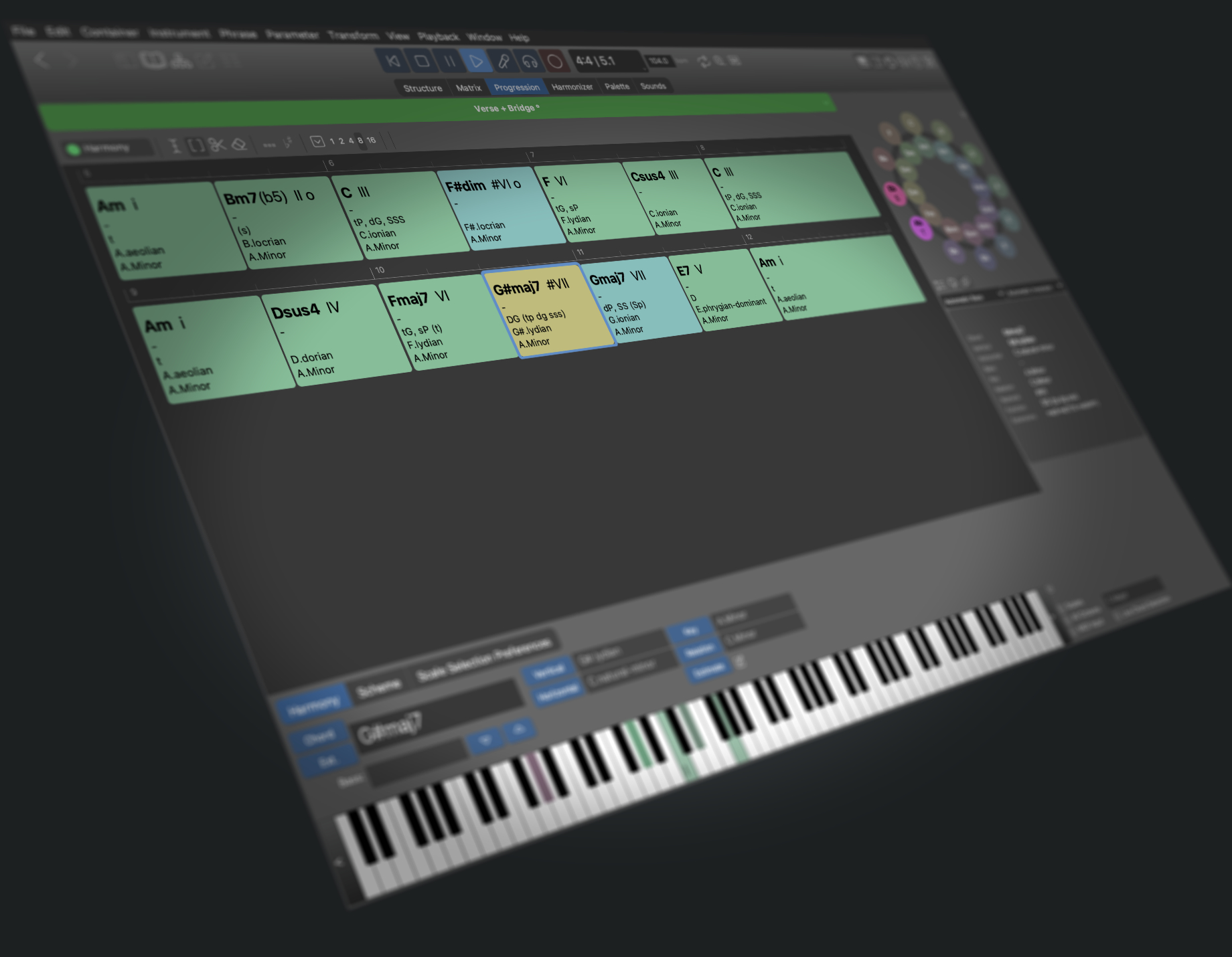 Edit chord changes, keys and scales for every part of your song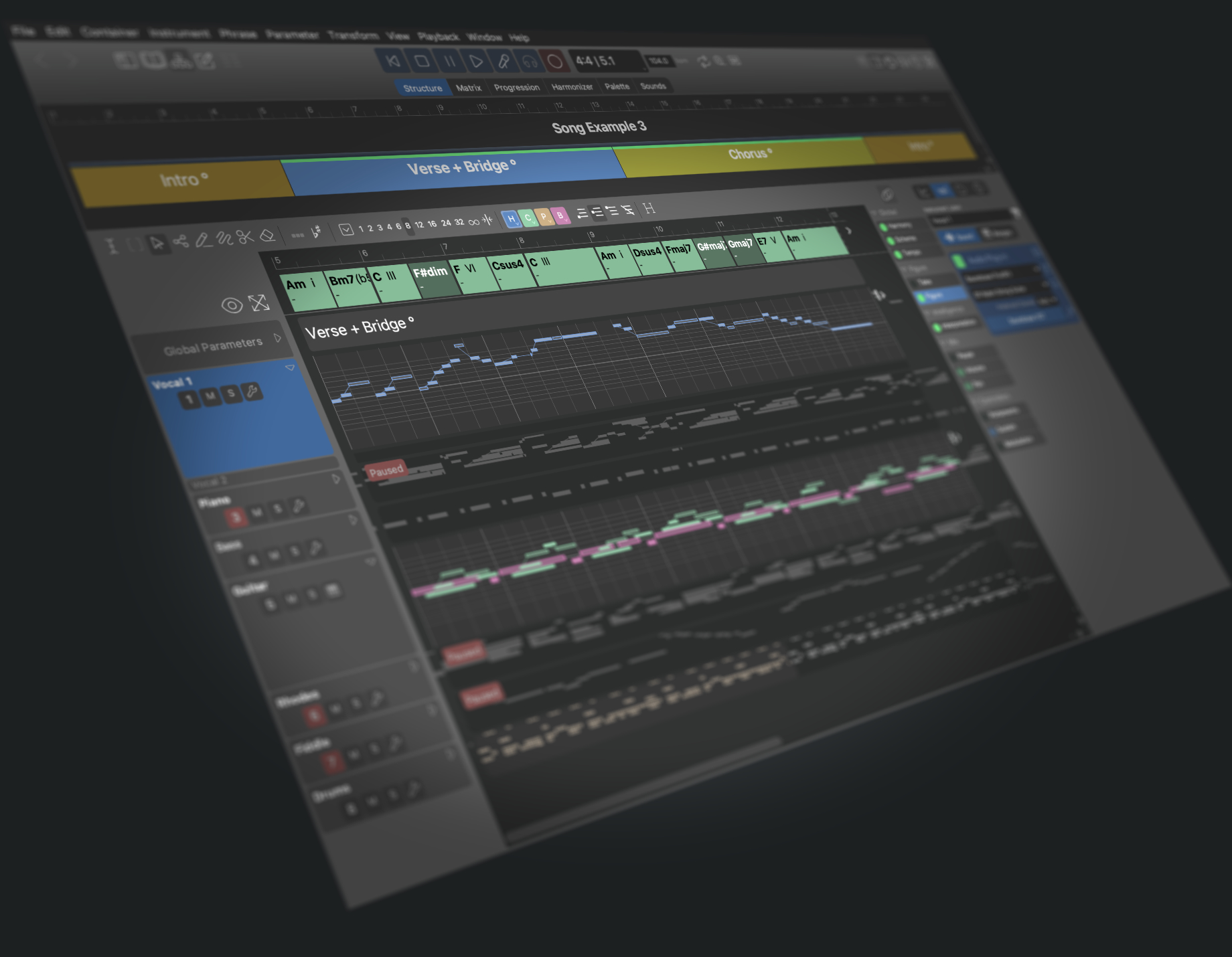 Render phrases for all instruments and parts. Export them to your DAW.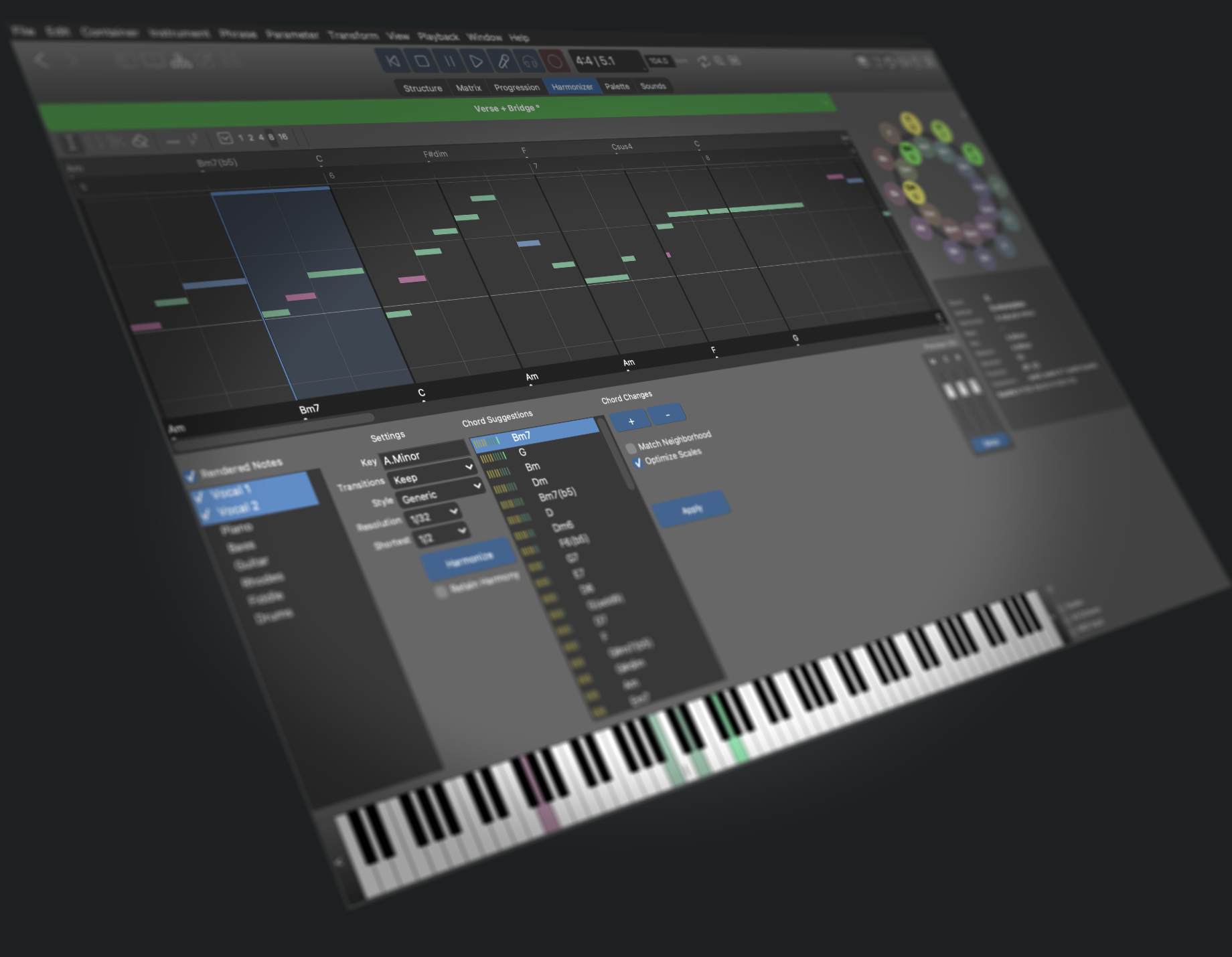 Find all chords that match a melody with the harmonizer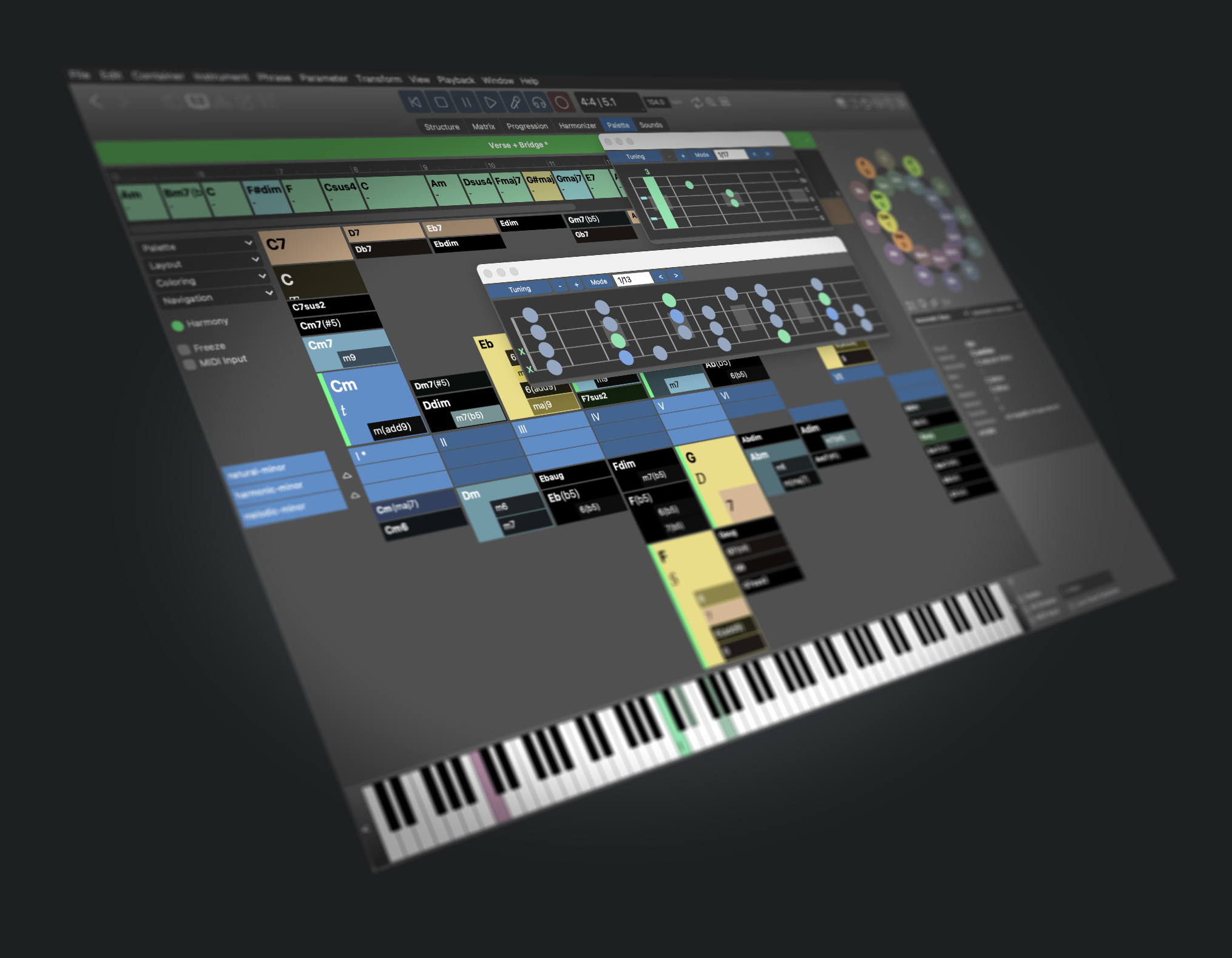 Display chord grids and keyboard patterns to play along with your song
Create Music With Character And Substance
With a DAW it's easy to fire up a drum loop, record a bass line and add some sustained chords. Everybody can do this in a few minutes and that's what it sounds like: All the same.
Unless you happen to have absolutely stunning vocals that carry and dominate the whole song, your song needs a supporting substance to make it stand out from the rest: Rhythm, harmony, melody (hooks) and structure. And it should be as relaxed and original as possible to make it stick.
All sorts of styles and genres come and go over time, but at the core it's still the same "secret" that makes the difference. Synfire Sparks is a great workbench where you can find these ingredients, put them together and export them to your DAW.
What Synfire Sparks Can Do
Arrange a song and change its harmonies at any time - even after the fact.
Surf the Chord Palette to explore chords, scales and keys and drag them to your song.
Learn Music Theory intuitively by listening.
Find chords matching a melody using the Harmonizer.
Detect chords from MIDI input and add them to your song.
Use phrases from a Library to try different bass lines, piano riffs, arpeggios, chord stabs, finger picking patterns, you name it.
Export finished parts or individual phrases to your DAW with simple drag & drop
Export Standard MIDI Files (SMF).
Use your favorite Plug-ins (AudioUnits, VST3, VST) or external hardware synthesizers.
Play along to your song with real instruments, following the chord patterns for many string instruments on screen.
Print palettes and progressions along with tablatures for string instruments and keyboards.
Create your own palette layouts.
Got curious? Sign up for our newsletter to stay informed about new developments and the occasional sale.
---
What Happened To Harmony Navigator 2?
Harmony Navigator is no longer a separate standalone product. It has been integrated with the Synfire family: Sparks, Express and Pro. You can upgrade your copy of HN2 to Synfire Sparks or Synfire Express. With both editions you can now host your audio plug-ins (AudioUnits, VST3, VST), edit phrases and collect you own libraries.
Now that all editions are based on the same foundation, you can use most tutorials and instructions made for any of the other editions. Although they are not 100% identical, you will more easily find what you are looking for.