Harmony Navigator
Inspiration 2.0: Cognitone introduces the second generation of intelligent assistants for songwriters and creative musicians. You have the choice between Advanced Edition and Light Edition.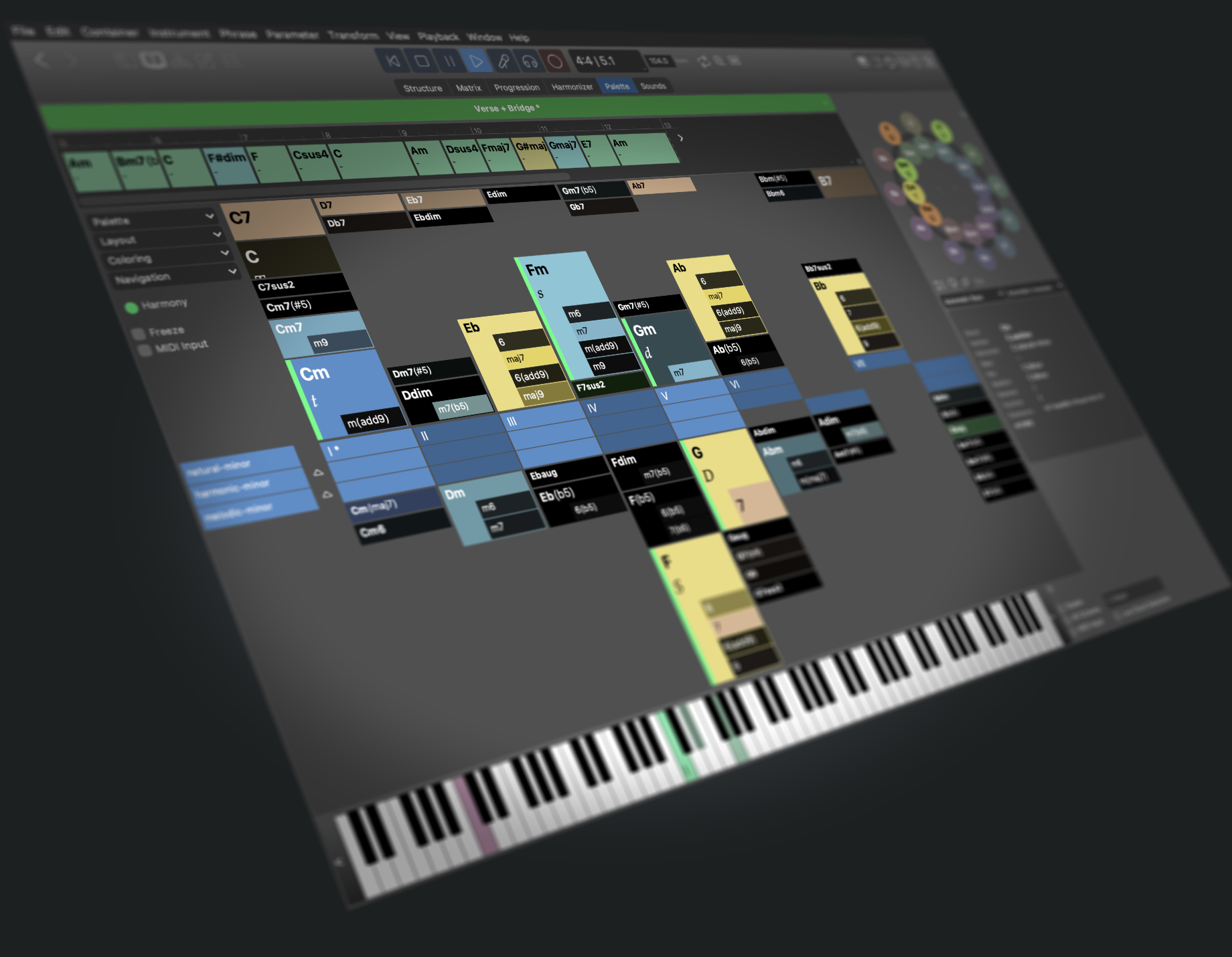 Palette: Surf across keys and scales, while listening to music sketches rendered in real-time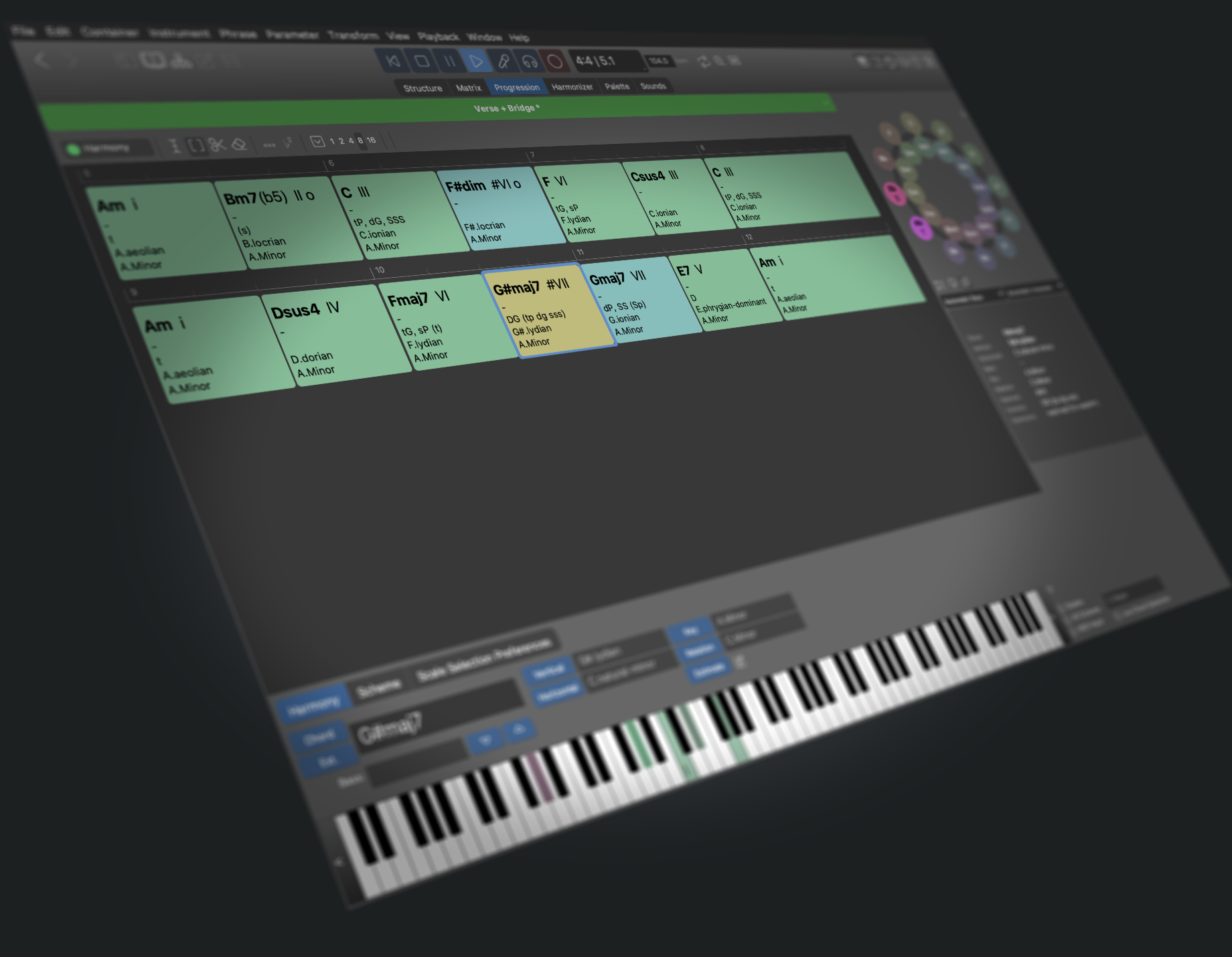 Progressions: Edit chord changes, keys and scales in full detail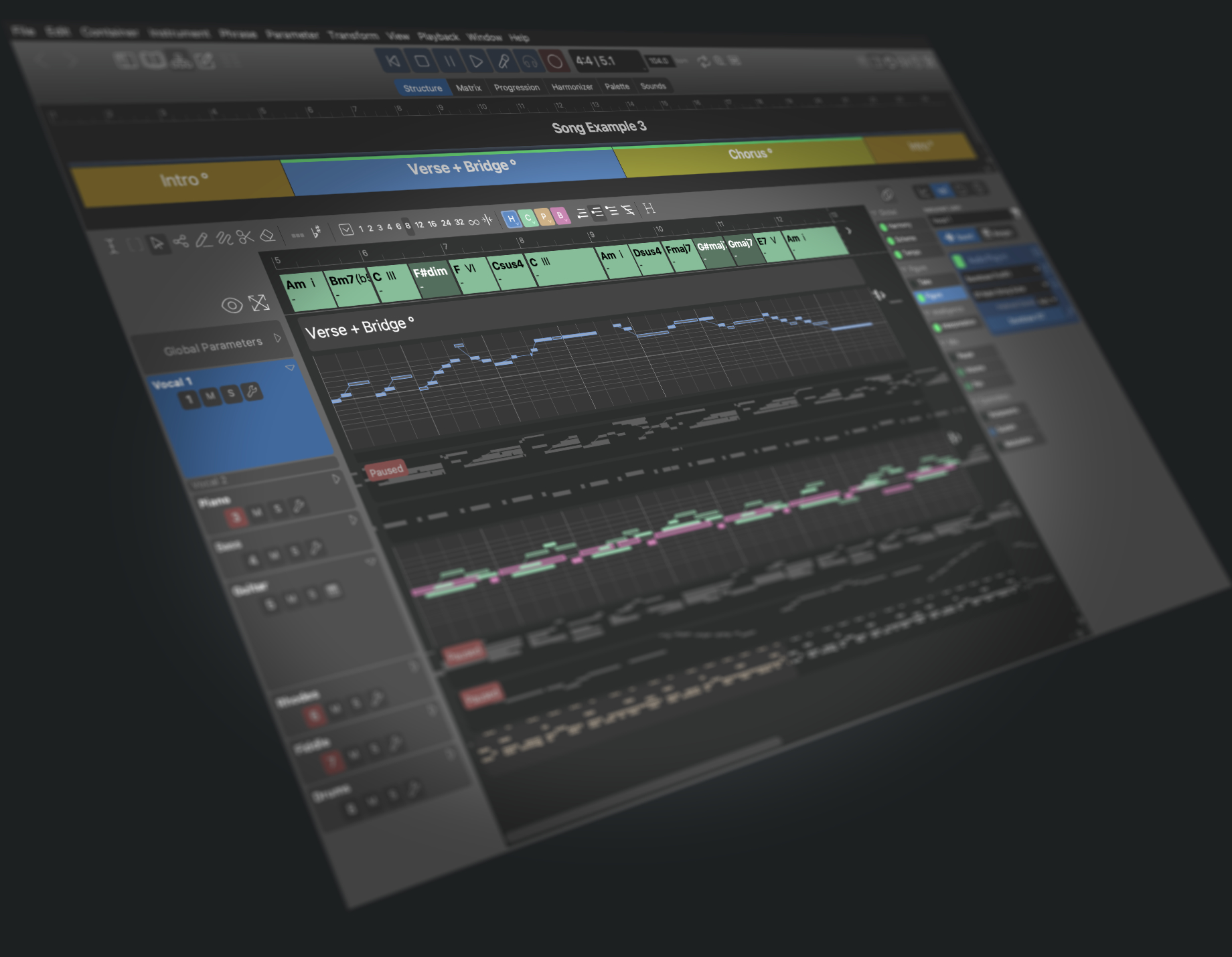 Song: Create parts for intro, verse, chorus and more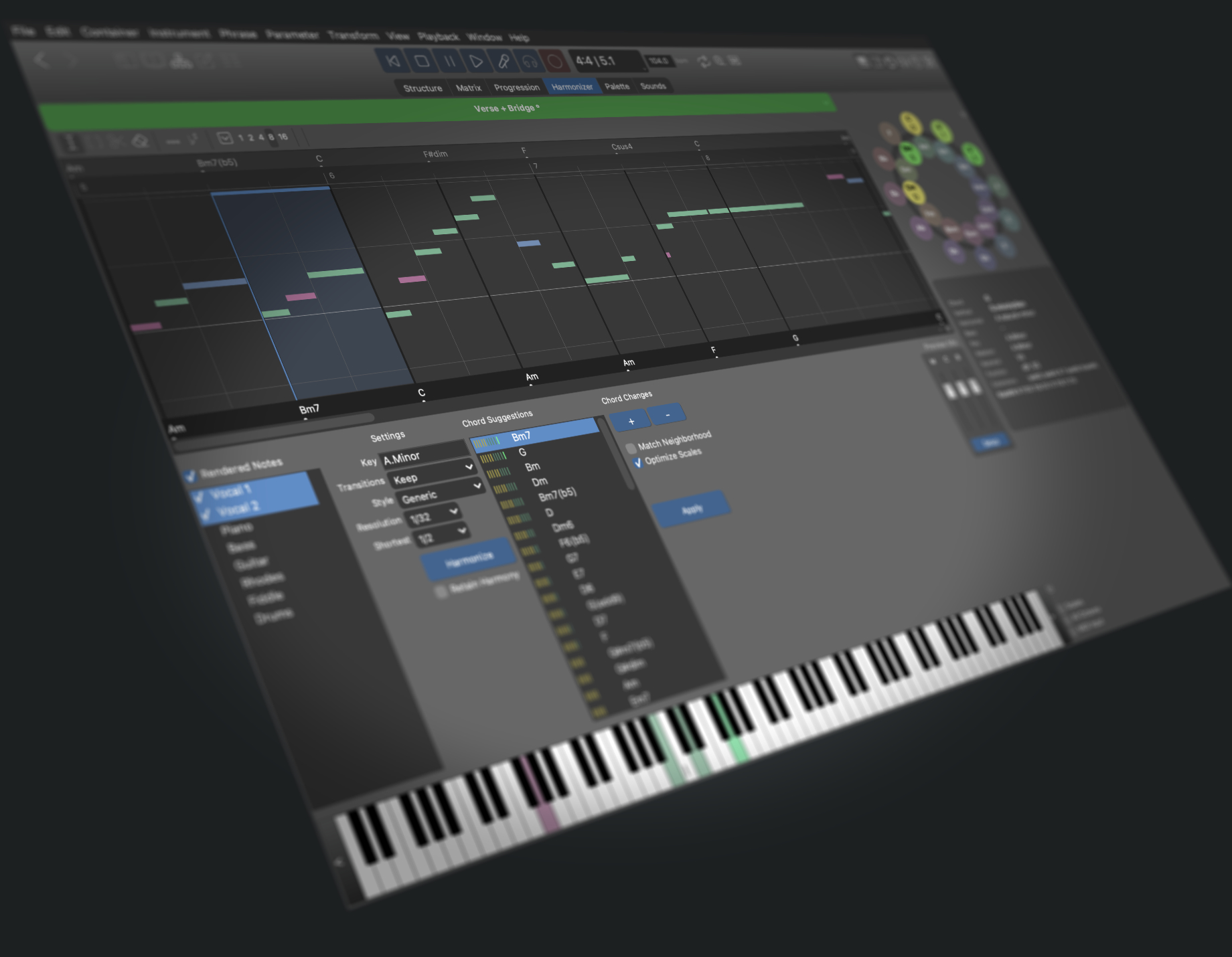 Harmonizer: Find chords matching a melody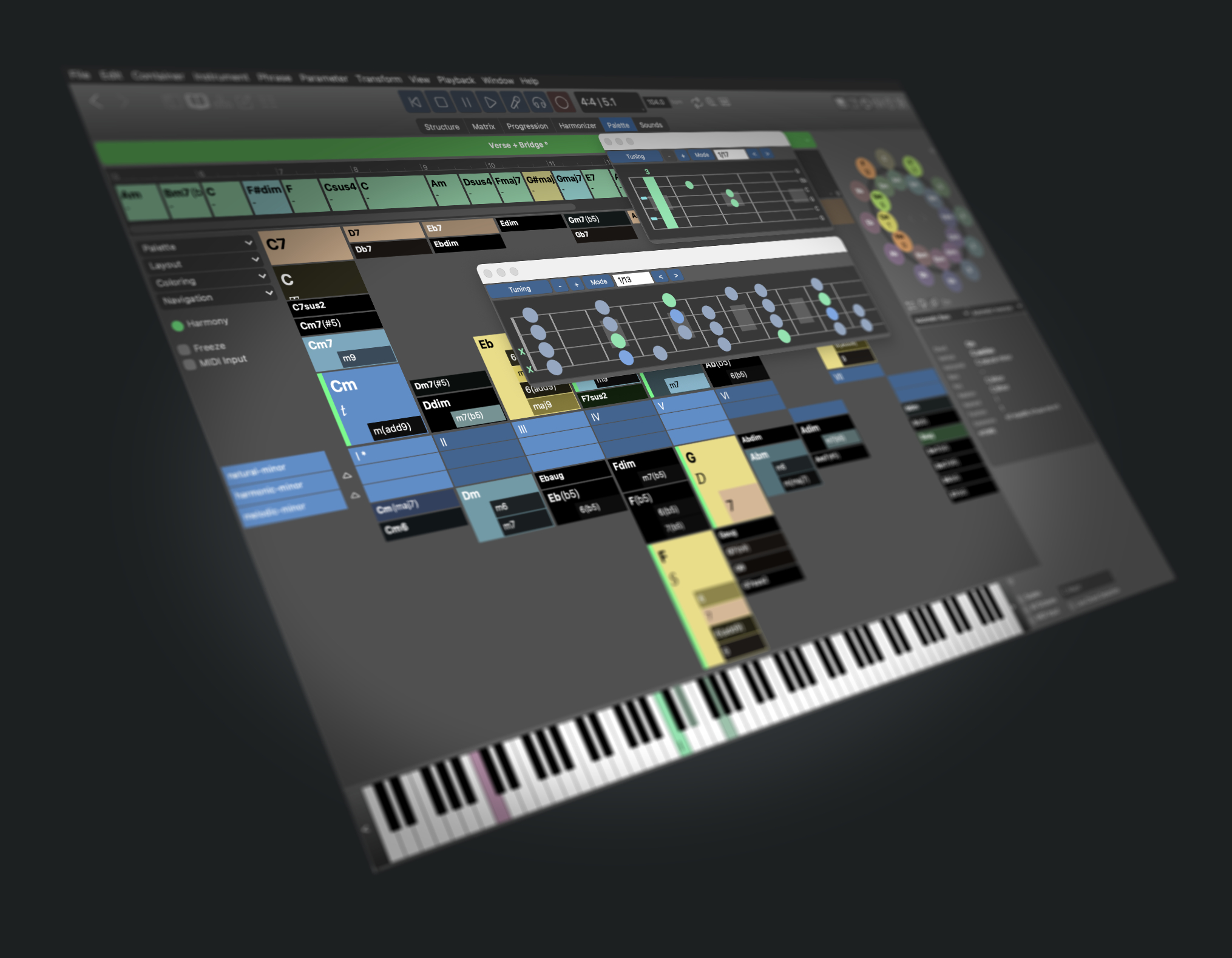 Play along live with keyboards or string instruments
Substance Matters
It's been commonplace among music publishers for ages: If a song is convincing "unplugged", merely with guitar and vocals, it's a good song. Everything beyond that is production. Even with electronic music, it's not much different: If the groundwork is dull, a polished mix won't make it significantly better. Harmony and rhythm need substance. Well, rhythm, you might think, that's something I can master. But harmony?
Start Writing Better Songs Today
Leverage the comprehensive knowledge base of Harmony Navigator to find a sound harmonic foundation for your song. Palette "surfing" is fun and always gives rise to fresh ideas and new insights. This way you easily and intuitively find new approaches to your song. Even experienced professionals do benefit from this. These are the three steps to your new song:
Inspiration. Use Harmony Navigator like a virtual guitar or keyboard until your ideas begin to settle. You can rehearse the chords on your instrument later. This way you will escape from bland habits and repetition and gain new freshness and freedom. Don't give boredom a chance!
Song Building. Assemble a progression from the chords you found. With the Advanced Edition you can start a song with multiple sections and up to 8 instruments (intro, verse, chorus). Experiment with different accompaniments and melodies.
Export. Save your complete song (LE: the created progressions) as a MIDI file and import them into your sequencer or DAW for further processing. Ranging from plain chord changes and rich arpeggios (LE) up to a full-blown band accompaniment (Advanced), everything is possible.
Find Chords To A Melody
You already have a melody? That's fine. Use the Harmonizer included with the Advanced Edition to find chord changes that best suit your melody. All this is integrated with the main song window. Make any melody an exciting experience supported by a refreshing chord accompaniment.
Click - Listen - Understand
Ideas for chord changes and melodies do arise by following a very simple principle: Click & Listen. If you got confused by complicated musical theory in the past, you can now forget about that and just go ahead:
Get an overview of Chords that match a certain key, concisely arranged on colored palettes.
Navigate the Circle of Fifth and learn about harmonical coherences in an intuitive hands-on manner.
Understand the tricks of professional songwriters: Let Harmony Navigator analyse chord progressions for you. Leverage this insight for your own songs.
Play a revolutionary new instrument:Virtual musicians interpret full arrangements, following your directions in real-time.
Compose Chord Changes
Compose now, excercise later! Listen to and judge different chord progressions in full instrumentation without the need to play them yourself.
Enjoy trips through harmony space: Be inspired by live performances suggesting new melodies.
Explore variations, substitutions, bridges and key changes (modulations) to make your songs more interesting.
Be guided by colors helping you to find the next chord in a progression or to achieve certain effects. Harmony Navigator offers an almost unlimited choice of coloring schemes.
Harmony Navigator is programmable: Create your own palettes, coloring schemes and tone systems suiting your personal style. Develop your own system of harmony. Discover exciting progressions beyond traditional major and minor tonality.
Generate sustained chords and rich arpeggios and export them to your sequencer or DAW for further processing.
Jam
If you are playing a real instrument, Harmony Navigator offers a multitude of new possibilities for you and your band:
Find cool scales for improvisation and bass.
Watch fretboard and keyboard patterns for various instruments following song playback "live". Excercise with other band members by sight-reading from the laptop screen.
Print fretboard and keyboard patterns for rhythm accompaniment (chords) and melody improvisation or bass lines (scales). Harmony Navigator supports various string instruments and standard keyboard.
You can print harmony palettes, making you independent from the computer, e.g. when hitting the road.