Press Room
Images
Please contact us, if you need images, logos or other data.
Licenses For Review
Journalists, editors, authors and bloggers with a certain reach, please request a NFR License for reviews. In order to avoid abuse, please provide some links to previous publications.
Summary
In order to help you get started with this topic and make yourself familiar with the concept, we have collected the following basic information for you:
Classification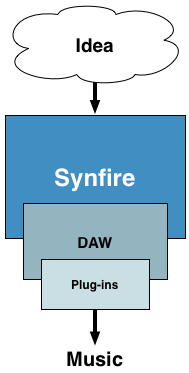 The terms, methods and workflows introduced by Synfire are new. Synfire is the first of its kind, a new category of music software that focusses on the very first step in the creative process: Transforming ideas in your head to something you can take to your DAW (see illustration).
Regarding its completeness, depth and seriousness, Synfire sets itself apart from previous approaches in this field, which are tailored to specific genres and cover a small range of isolated applications only.
Innovations
Whatever you can think, now you can also play.
Using AI-techniques, Synfire understands and transforms music at the symbolic level.
Makes musical fragments from any origin match your song. Everything can be combined, shaped and moved.
Chords and scales can be edited or replaced at any time. Harmony is just a parameter like many others.
Music is not divided into blocks. It is interpreted in a fully linear and natural fashion. Including overlappings and
Synfire is based on established music theory: The things you learn, you will benefit from all your life as a musician.
Applications
Thanks to its linear and natural way of interpreting music, Synfire is not limited to electronic music. Its bandwidth covers almost every genre: Pop, Jazz, Film Scores, Orchestra, Piano, Game Soundtracks, Folk, Hip Hop, EDM, Dubstep, Drum&Bass, Ambient, Chillout, R&B and all styles that benefit from harmony and structure.
A summarizing product description can be found here.
A few music examples.
Technology
Synfire runs on OS X and Windows and is mainly comprised of three areas:
Creating harmonic progressions.
Editing musical expresisons and parameters.
Building arrangements, that combine both of the above.
Synfire hosts VST and AudioUnit instruments. So-called "Drones" allow for the cooperation and tight synchronization with a DAW at sample-precision. Projects can be comfortably transferred to a DAW.
Learning Curve
Getting into the new mindset takes a little time. If you simply continue your current workflow, merely thinking of Synfire as a 'DAW with a Chord Track' (which already exists, albeit an entirely different thing), you will miss out what's actually so compelling and new: Creative composing, unleashed from all restraints! New users often restrict themselves unconsciously, because they can hardly imagine all the possibilities they have.
Once you have understood the basic principle, you will be rewarded with first results quickly. Typically, beginners will unlock more and more creative freedom over the course of a several months. The sky is the limit here. Even the developers did not yet find enough time to try out everything that would be possible. Practically on a monthly basis, new tricks and applications are still being "discovered".
Please: Should you encounter any obstacles or problems, please do not hestitate to contact us directly and at any time! We are happy to help you.
Our Collecton of videos on YouTube is being extended on a regular basis, so everyone can participate in this exciting development.
Our User Forum already turned into a vibrant place where users share their insights, ideas and discoveries. We want to support and extend this activity further.
Target Audience
Synfire is for everyone that want to live out thier musical dreams and develop new skills. There are no limits regarding the musical style. Beginners most appreciate the availability of musical techniques that they otherwise could not (yet) master without help. Professionals appreciate the constant induction of new ideas and the overall productivity gain.
Future
The easier making music is, the more fun it gets. Cultural pessimists might lament that all those popular loops, groove boxes and construction kits have already led to a blunted digital monotony. It will be interesting to observe what will happen, if eventually Synfire is easing access to practically all musical genres.
More Information
Comparison with other Cognitone products:
Find a chart here.
Please do not hestitate to contact us, if you need more information or material. Visit our Contact Pagee and send an email to the office - thank you.