Synfire
Experience a groundbreaking new technology that is able to understand and interpret music at a high level of abstraction. Following an entirely new approach, Synfire helps you put new ideas to life.
This video playlist includes several videos introducing Synfire and Music Prototying in general.
Prototyping
In order to do something useful with your production gear, you already need a pretty concrete idea of the stuff you want to record and arrange, because a DAW is basically just a recording device. The longer you work on a project, the more difficult it becomes to make sweeping changes, because everything is static. More often than not, you find yourself at a point where you settle for a mediocre compromise because starting over would be too tedious.
That's a shame, because you are falling short of your creative potential.
The idea of Music Prototyping is to render music dynamically from components that you can edit and replace at any time, no matter how complex and evolved your project already is. This freedom breaks your routines and gives rise to fresh ideas, amazing surprises and new motivation.
Build music from components that can be edited, sketched, generated, collected, reused and combined in countless ways
Get results so fast that you can judge them more objectively
Get inspired by happy accidents and surprises
Master all the different instrumental parts that breathe life into your music
Discover musical styles beyond your routine and habits
Intuitively learn the theory of music
Escape writer's block
Inspiration For Years To Come
Synfire is an inexhaustible source of new ideas. Users that have worked with Synfire for a while can't imagine what they would do without it.
Some popular music apps are custom-tailored to a specific style of music and put an emphasis on entertainment and instant gratification. They are fun to use, but the music pretty much sounds all the same. Synfire is not hard-wired to a specific style and workflow. It is an extremely deep and powerful tool. We could have flattened the learning curve by baking in a lot of assumptions about workflow and style, but we didn't want to do that at the expense of artistic freedom.
Take your time to make yourself familiar with it and you will be rewarded handsomely.
What's more, songs and compositions can be copyrighted. Thus Synfire helps you build your own intellectual property that you can license to artists, producers, film makers or music publishers.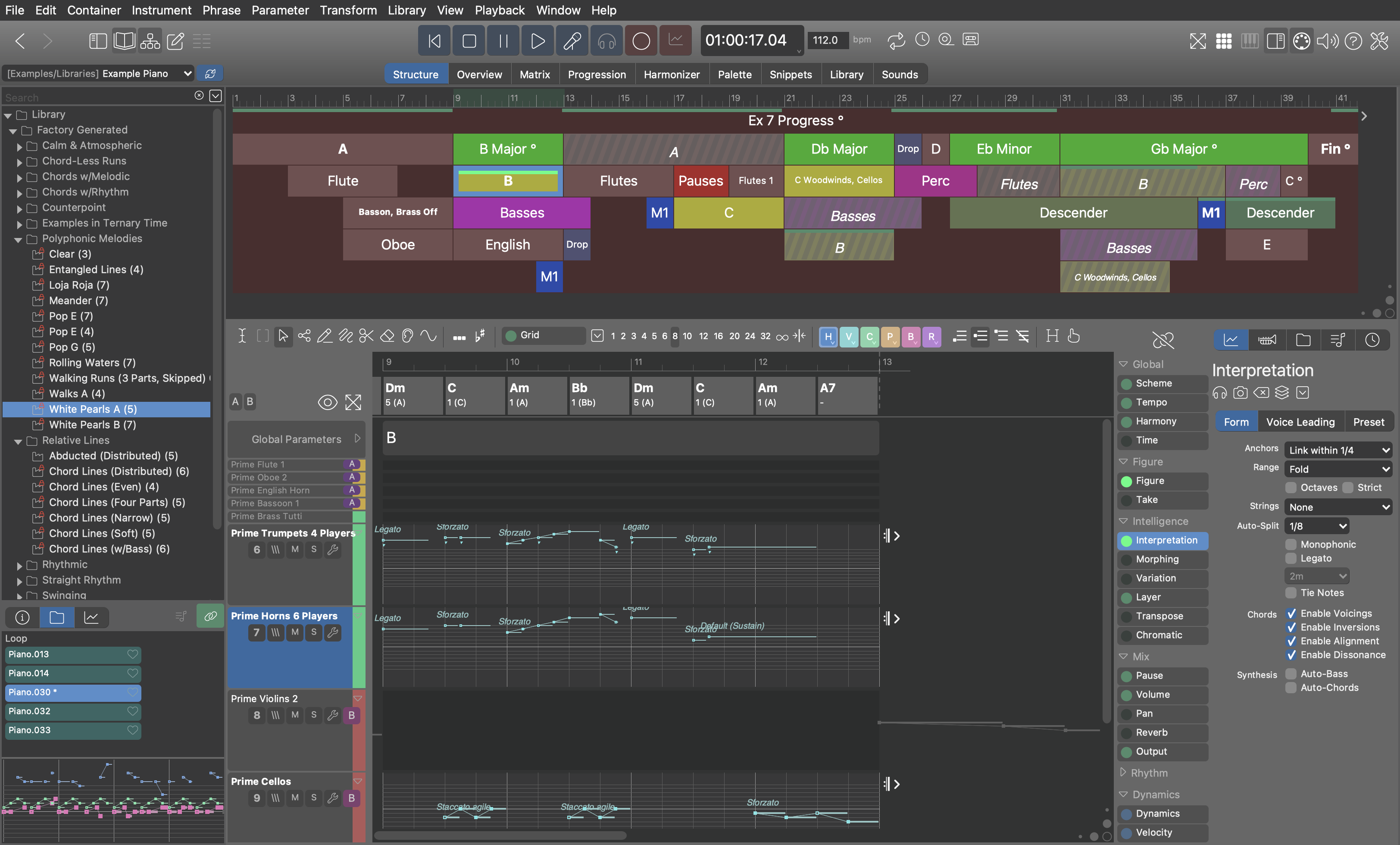 Integration With Your Studio
Synfire is a standalone application that hosts your virtual instruments (VST, VST3, AudioUnits). There are ways to synchronize with your DAW so you can compose alongside or around recorded vocals and instruments. Export your results to a DAW with drag & drop, or via Standard MIDI Files (SMF). Export notation formats MusicXML and LilyPond.
---
All features mentioned on this page are included with the Pro edition. The Sparks and Express editions may not support all of them. Please refer to the product comparison page for details.